Let's face it, any betting exchange which aims to take some of the market shares away from the betting exchange giant, Betfair, has their work cut out.
Many have tried and fallen by the wayside, so the very fact that Smarkets is still going strong shows that they must be doing something right.
In this review, we won't just be looking at the Smarkets offers, but every aspect of this very well-regarded betting exchange and the reasons why they seem to be going from strength to strength in this extremely competitive market.
First £10 of losses will be refunded

Visa

MasterCard

PayPal

Mobile Site
Are There Any Decent Smarkets Deals?
When you first start to research this betting exchange and the Smarkets free bets which are available, it all seems a little underwhelming, to say the least.
A small Smarkets new customer offer is advertised on the website, and that is about it, but for anyone who is involved in matched betting, there is far more to this exchange than Smarkets free bets, so with that in mind, let's take a closer look at exactly what is on offer and why this betting exchange is an essential ingredient in a matched bettors toolbox.
The Bonus You Get after a Smarkets Registration is Complete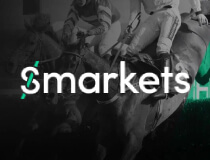 When you compare the Smarkets joining offer to the deals which are in place with the likes of bet365, it does look like a very poor offer.
On the face of it, it seems that the deal is offered just so Smarkets can state that they do have a Smarkets new customer offer and be included in reviews such as this one. But free money is free money so let's take a closer look at what the Smarkets sign up bonus is all about.
It is advertised in some quarters as a Smarkets free bet of £10 but what it is, is a refund of up to £10 on your losses.
Smarkets free bet terms state that you must make an initial deposit of £20 into your account, and this deposit must be made by either a bank transfer or by a credit/debit card.
Any deposits made by an e-Wallet such as Skrill, NETELLER or PayPal will not qualify for this new customer offer, and it should also be noted that deposits made with prepaid debit cards also do not qualify for the new accounts deals.
The Smarkets free bet rules relating to prepaid debit cards are becoming more common amongst online bookies, so it looks like this is how the industry could be going as a whole.
So, to sum up the Smarkets new customer offer – make a first deposit of £20 into your account, and if £10 of that £20 deposit loses, you automatically receive a refund of the £10.
It is advertised as being a £10 cash bonus, which it is, but on closer inspection of the Smarkets free bet terms, this £10 has to be wagered before it can be withdrawn.
This is not really a big deal, but it is slightly misleading when you read the banner which advertises the welcome offer.
What about Any Ongoing Smarkets Offers?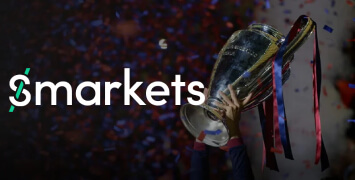 At the time of writing, the only other Smarkets promotion in terms of a cash bonus, which is worth mentioning, is the refer a friend bonus, which can be quite lucrative.
The way that it works is that if you recommend Smarkets to someone and they go onto open an account and deposit £20, there is a Smarkets joining offer of £10 for the referrer and the person who was referred.
When you go through the initial Smarkets sign-up process, you will see that you are automatically given a refer a friend code, and this is what you give to anyone who you refer to the bookie.
The terms and conditions which are associated with the refer a friend bonus are very similar to the Smarkets welcome offer in that web wallets and prepaid debit cards are not allowed. On the plus side though, you can refer a maximum of fifty people through the refer a friend bonus.
So, if you have more than a few friends, family members and work colleagues, the opportunity is definitely there to make a few quid!
Something Much Better Than a Regular Bonus
Some online bookies have various schemes in place which reward existing players but Smarkets have something which is much better than that, and it comes in the form of a commission rate of 2% and if you carry on reading, you will discover that it sometimes gets even better than that!
The way that betting exchanges make their money is by charging customers a commission on their winnings.
It doesn't matter if you back a selection or lay a selection. You will only pay money on a winning bet, and in the case of the Smarkets, that commission rate is set at 2%.
When you take into account that their main competitor, Betfair, charges 5% commission (even though this can be reduced depending on the amount you bet), it equates to quite a big difference for Smarkets customers.
When you also consider that those who are into matched betting can quickly turn over large amounts of money when laying bets, the low commission which this bookmaker offers can make a massive difference over both the short and long term.
When you have gone through the Smarkets registration and opened a new account, keep your eye out for any emails because they have been known to reduce the commission rate to 0% for a period, usually in conjunction with a third-party matched betting information provider. It doesn't take much imagination to realise how much money can be saved when this happens.
So, as you can see, when you first look at the Smarkets sign up bonus, it would be easy to dismiss the idea of opening an account but look a little deeper into what this innovative betting exchange has to offer. You will realise that opening an account would be very much worth your while and there is often much more to a bonus than a Smarkets bonus code or a Smarkets promo code.
The Simple Steps to Open a Smarkets Account
The Smarkets open account process is extremely straightforward so let's take a closer look at exactly what's involved.
The first thing that you need to do is click on the green Create Account button which can be found at the very top right-hand corner of the website.
From there, just fill in the usual personal details such as your name, address, date of birth, telephone number and email address.
Make sure that you use an email address which you check on a regular basis because this is how you will be informed of any Smarkets deals and it would be a shame if you missed out on a further reduction of the already low commission rate.
There is the option to confirm that you would like to receive offers from the bookie so make sure you have agreed to that. Otherwise, you won't receive notification of any offers.
If you have been around the matched betting arena for a while, you will know only too well that a KYC request is part and parcel of the game.
This is when a bookie asks you to send copies of ID in order to confirm that you are who you say you are.
Smarkets will attempt to verify your identity electronically, but if they are unable to do this, you will be asked to send them a copy of your passport/driving licence, a utility bill which is less than three months old and a scan of the front and back of your debit/credit card if this is the method which was used to make a deposit.
Make sure that you cover up the three-digit signature code along with the middle digits of the sixteen-digit card number.
Smarkets are usually very quick to verify accounts so once you receive an email to say that your account has been verified you will be ready to place that first bet and to get your hands on the Smarkets welcome bonus.
How to Deposit Money into Your Account for the First Time
Once you have gone through the Smarkets registration process and your account has been verified, it is just then a matter of clicking on the 'my account' button and then clicking on the deposit button.
You will be prompted to register a payment method but don't forget, if you are claiming the Smarkets joining offer, any deposits made by web wallets such as Skrill and PayPal will not count for bonus purposes.
You can use web wallets for future deposits, just not for this initial deposit.
Once you have registered a payment method, enter the amount that you would like to deposit, in this case, £20, click on the submit button and the £20 balance will be instantly available for you to bet with.
Placing That First Bet

Placing a bet on the Smarkets platform is simplicity itself, but if you are not familiar with a betting exchange interface, it does look a little different to what you may be used to.
Let's take placing a bet on a football match as an example. Find the football match you would like to place a bet on, and you will see that to the right of the teams who are playing, there will be the option to back or lay the home win, the draw, and the away win.
The green boxes contain the price to back whilst the blue boxes contain the price to lay the selection. Simply click on the option you would like to take, and the selection will automatically appeal in the betting slip which will open at the right-hand side of the website. Enter your stake and then submit and providing the price is still available, you bet will be placed.
It should be noted that the closer to the kick-off or start of a race you are when you try and place your bet, the odds will be more volatile. It is, therefore, a good idea to place your bet at least an hour or so before the event starts so that you will stand a better chance of getting the price which is advertised.
If your bet loses, the Smarkets welcome offer states that you will be refunded any losses up to £10 and once this has been refunded, it must be wagered at least once before a withdrawal can be made.
Live betting with Smarkets
By the very nature of a betting exchange, live betting is the name of the game with Smarkets.
You do need to be aware though that the markets can move very quickly, especially on the run-up and during an event taking place.
This means that it can be tricky for matched bettors to get the price they are looking for when laying a selection so the advice would have to be to lay any bets off as early as possible.
Great Mobile Compatibility
There is no doubt that any bookie or betting exchange which is worth its salt must have an excellent mobile app in order to survive in this day and age so you will be pleased to know that Smarkets have a superb app which is available in iOS and Android formats. It has exactly the same layout as the desktop version of the website and is extremely easy to navigate.
There is nothing worse than frantically looking for the best you would like to place on a mobile app only to discover that you just can't find what you are looking for.
The same login details are used as well as the same cashier so you could deposit funds into the desktop version of your account, and it will also be available to use on your preferred app.
What about the Quality of Customer Support?
The customer support at Smarkets is very good. They can be contacted by telephone, post, email, live chat, and Twitter with live chat being the preferred option as it is available 24 hours per day, 7 days per week.
The live chat operators are very helpful, not overly chatty but most people would prefer it that way as they concentrate on solving any issues without joking around.
If you decide to contact Smarkets through Twitter, you will obviously need to have a Twitter account and follow Smarkets.
Safety and Security at Smarkets – A Multi-Licensed Bookmaker
To be honest, you would struggle to find a bookie or betting exchange which operates in the UK, which isn't properly licenced and Smarkets is no exception to that rule.
Licenced by the Malta Gaming Authority and the UK Gambling Commission (Ref.39173), you can rest assured that Smarkets ticks all the boxes in terms of providing their customers with a safe and secure betting environment.
They are also big on responsible gambling and provide help to any of their customers who are experiencing problems with their gambling.
Commonly Asked Questions
Is the 2% Commission Rate Permanent?

It has been in place for a long time, and according to Smarkets they have no plans to change it, but at the end of the day, Smarkets is a business, and if it is no longer working for them, it is their prerogative if they want to increase the rate. The advice would have to be to make hay whilst the sun shines and take advantage of this low commission rate whilst it is available.
Can You Refer More Than Fifty People under the Refer a Friend Scheme?

Under the current Smarkets free bet terms, fifty is the maximum. You could refer more than fifty, but you won't be rewarded for any more than fifty.
What Is the Best Betting Exchange to Open an Account with, Smarkets or Betfair?

There is a very simple answer to that question, and that is to open an account with both. You would be surprised how the prices can differ on the same selection so if you are a matched bettor, having an account with Smarkets and Betfair always gives you the option to compare the two when looking at laying a bet.