Do you know the basic match betting beginner's guide and tips? If not, then you might want to learn about matched betting for dummies. We are going to do our best to keep you interested for a longer period of time, so we have made these match betting beginner's guide and tips short and sweet. If you are new to this, we advise you to go through the entire guide very carefully and reread the parts you do not understand, and if you are still confused, contact us. Continue reading to find out how to make match betting.
What is Matched Betting?
You probably want to see words like risk-free and sure-thing. We will not disappoint you. So, this is the tech definition, but what is matched betting? If we break it down to its simplest form it is:
Registering with a bookie like Betfair which offers a free bet as a welcome bonus. These bets often look like – bet £50 get a free £50 bet.
Place a qualifying wager to receive your free bet by both backing an event to happen and laying the same event not to happen. This way you will break even.
Place a free bet on the exact methods that will result in a way that you will break even. The profit will be the value of your free bet.
So, by now it should be obvious to you that matched betting has almost nothing to do with events. You have signed up, and you want to make money. Initially, you will need to satisfy the initial part of the requirement for a free bet.

So, first you have to find a way to bet risk-free £50. This is very easy to do. This does not mean that you make a profit without a risk, it means that you will break even without any risk. Now that you have placed £50, you have access to a £50 free bet.
Now, just do the exact same process to break even. But the money was not yours, it was free. Thus, breaking even means that you receive the value of the free bet for free in about 15 minutes. Continue reading to see our matched betting examples.
How is it Risk-Free?
Well, it does not matter how the event you wagered on ends. If one of the bets was on Manchester United vs Liverpool and you bet both on Manchester United and against them, it will not matter if Manchester United will win or lose. So, it does not matter what the outcome is since you will break even.
So, you should keep in mind one thing. Don't rely too much on the software – Always consider the human error. The only chance to lose money is if you make a mistake. So, just be careful. Sites like Oddsmonkey essentially do all of the work.
What is Backing and Laying
The way to remove the risk in the process is to both lay and back an event.
Definition of Back:
This type of wager is on something to happen, for example, a football team to win. It a typical bet that you place with your bookie.
Definition of Lay:
This is betting against an event, and taking the bet from a person who thinks that it will happen.
The Methodology
Many bookies offer a free bet to new users as soon as they place their first wager. We will release this free bet, by making sure that we do not lose any money from the first one.
There will be a couple of transactions. The initial one is the qualifying bet, it will unlock your free wager. In most cases, they will be of the same amount.
Qualifying Bet:
Start by finding a bookmaker that offers a welcome offer. They are basically everywhere nowadays. Once you choose one, read the T&C's. After you deposit enough money to make your first bet, search for the bookie in Oddsmonkey. We will use Stan James who offers a £10 bet when you wager £10 with them. After that search against your preferred exchange, we will use Betfair.
Let's say the minimum odds are 1/1. Bookies want to keep your original stake if they give you a chance to take money off them, so they want you to wager on something that has a low probability of happening.
So, go to Stan James and Betfair. In our case, you will be wagering on 3.5 goals. Thus, when you find the game, click on the more bets option. Place your 10 pound bet on it. Just place 10 in the stake box, and everything will update itself automatically. Now, half of the bet is done.
To complete the qualifying wager, you have to cover the other eventuality in case there are less than 3.5 goals scored. If your bet wins, you will win £23.80 at Stan James, but if it loses, you will lose your initial tenner. This is not acceptable, so we lay off the bet at the same time.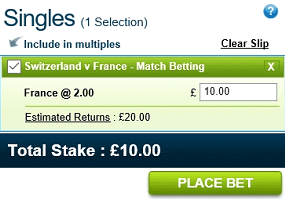 Find the category, the more than 3.5 goals and click on the box that matches the odds that Oddsmonkey told you about. Now we are betting against over 3.5 goals, which is at 2.26. You should consult Oddsmonkey once again.
You were advised to place 10.77. The 77p will accommodate Betfair's fees for finding you the bet. Thus, our liability will be £13.57. This is what you will lose if there are over 3.5 goals scored.
However, this is okay, since you will with Stan James. Just make sure that you have at least £10.77 with Betfair. Oddsmonkey says that there are £110 available, but there was a change and the actual amount is £170, so we can put on £10.77.
You should always make sure that there are enough funds available in the market before you place your bet at the bookie. This is part of the human error aspect. You can make sure by filling out the minimum liquidity box as your required lay stake. Place 10.77 in the box, and you will get only the ones that have £10.77 or more. However, you should still check again, before you place your wager. Thus, in the Backers Stake box, write in 10.77 and click on place bet. Now you are done.
So, now we have a couple of bets on both outcomes of the game. Now, let's explore the possibilities of what might happen. If there are over 3.5 goals get scored, you will lose £13.57 at Betfair and win £13.80 at Stan James. If there are less goals scored, you will win 10.23 and lose 10 with Stan James. This is counting Betfair's 5% fee.
This is the perfect scenario. In most cases, it is acceptable to lose several pounds on a qualifying wager. However, if you get a chance to break even or make a tiny profit, you should take advantage of it.
Now you have gained your free bet. It might seem long-winded, but after you do this several times, you will be able to make the two bets and look up the odds in less than 5 minutes. This is a promise. And if you assign yourself a Matched Betting hourly rate, it will be astronomical.
The Free Bet Offer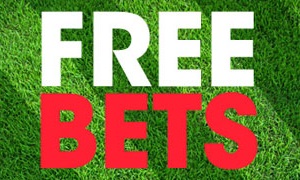 Now that you have an access to this £10 free bet. You will receive your free bet in less than 24 hours. So, now we wait.
Now you will have to do the same thing again. However, for the first part of the wager, you will not provide the money, so when you go even again, you will have supplied only half the funds. If you want to do this, go back to Oddsmonkey and search for something that has odds above 4.
There is almost no point in wagering on something that has odds less than 4. If you wonder why, it is because with normal bets, you will get your original stake back. However, with free bets, you will not get it back, or at least for most of them. Thus, you have to maximise the profit you make.
If you wager on something that has odds of 1.5, you will want to make it £5 since the £10 you used to place the wafer will disappear. If you wager on an event that has odds of at least 4.0, you will get £30. This will give you a bigger retention on the free bet. It is very hard to explain this but bear with us.
Do not forget to switch to free bet, since you will not receive your stake back. If the odds are at 1.5 and 1.5. You will get £3.28 profit both ways, and it is simply not worth it. If we, however, change the odds to 5.0, the amount will dramatically increase. This gives us retention of 76.8% of the free bet. As a rule, you should accept anything above 75%. However, be aware that you will need £32.32 in your balance at Betfair to be able to place this wager. The higher the odds are, the more you will retain.
When you place the wager with the bookie, you should make sure that you tick the using free bet box as most bookie have these.  Do not worry about using the free bets at Betfair, because we will not use them. We will only use the betting exchange as an instrument to balance our wager on every side and make sure that we do not lose any funds.
Thus, when you find something with odds of 4 or above, just fill out the box the way we showed you and make sure that Free bet is checked. Go to the bookmaker and make the wager, once you do this, go to Betfair and look for the event you are looking for. After that enter the backer's stake. In our case, it is £8. It is obvious that the liability is identical in these situations.
You should make sure that there is at least as much available money as your stake. In this case we need £8. And well done, you just won your first risk-free £7.60.
Related Articles
Regulator Seeks Step Change from Gambling Operators (Promoting Fair and Safe Gambling)
Opening a Dam Burst of Legalized Sports Betting? (What Will the Supreme Court Decide)