In some quarters, Betdaq has always been considered as the poor relation to Betfair, but that train of thought does a massive injustice to Betdaq because they are a very reputable betting exchange and the very fact that they are still going strong just goes to show that they are doing something right.
In this review, we are going to discuss why this is a betting exchange which every matched bettor should have an account with, along with the various deals which include the Betdaq welcome bonus and the various free bets offers which are available.
Get a £10 risk free first bet

Visa

MasterCard

PayPal

Mobile Site
The Enticing Betdaq Deals
When it comes to the Betdaq bonuses, you will find that they have quite a few offers in place at any given time and these can be viewed from the promotions tab on the home page of the Betdaq website.
There is usually a choice of two welcome bonuses along with Betdaq deals which often concentrate on a weekends sporting events.
A regular bonus which will always appeal to matched betting enthusiasts are the reduced commission offers which are available as Betfair registration bonus as well as a regular bonus which is available to existing players.
We will cover all the Betdaq bonuses in this review, so without further ado, let's look at the Betdaq sign up bonus.
?

Two Betdaq Registration Offers – Which One Is the Best?

When you go through the Betdaq open account process, you will see that there are two Betdaq deals which are open to you, but you must remember that you can only choose one or the other.

One comes in the form of a free bet whilst the other is a reduced commission Betdaq registration offer so let's take a closer look and decide which one offers the best value to punters who are involved in the highly lucrative business of matched betting.

?

The Betdaq Free Bets Offers

The Betdaq free bet terms state that on opening an account, you can opt-in for this offer, which is basically, bet £10 and then get a £10 free bet.

Look a little deeper, and you will see that your first bet of £10 can be placed on either the exchange or the sportsbook, the minimum odds need to be 2.0, and this bet needs to be placed within fourteen days of opening an account.

Deposits by web wallet do not qualify for this deal, and a Betdaq promo code needs to be used, and this is displayed within the promotions page of the website.

Once the qualifying bet of £10 has been settled, the £10 bonus will be awarded automatically, and this comes in the form of a stake not returned bet (SNR) which basically means that the £10 stake is not returned within any winnings.

The other option when it comes to the Betdaq sign up bonus is a refund of commission paid within the first month of opening an account of up to £1000!

This is quite an eye-catching offer when compared to the Betdaq free bets offer of £10, but you need to think about it for a minute before you jump in and choose the commission cash back offer.

What it basically boils down to is for you to decide what kind of a matched bettor you are because if you just dabble with matched betting, the Betdaq free bets offers of £10 should be the one which you opt for.

If you are matching out quite a few bets though, go for the commission refund offer and don't forget, you will have to enter the appropriate Betdaq promo code which is available on the promotions page of the website.

?

Are There Any Betdaq Deals for Existing Players?

As with most gambling websites, the deals which are available to existing players change from time to time, but there are usually a few Betdaq bonuses which are available to existing players.

There is usually some kind of offer which applies to the virtual sports section of the website which is not really something which will appeal to serious matched bettors because there is absolutely no EV (expected value) in the offer as whether you will win or not is entirely down to luck.

The two Betdaq offers for existing players which are of interest to us though are the Betdaq deals which involve reduced commissions but be aware, one of them is slightly misleading.

Let's get the misleading offer out of the way first shall we?

If you look on the Betdaq homepage, you will see a large banner which advertises a commission rate of 0%!

Don't get your hopes up though because if you take a closer look at the Betdaq free bet rules you will see that it is indeed a 0% commission offer, but it is available on every sport apart from, wait for it……..football, horse racing, greyhound racing and cricket!

That takes the gloss off the offer don't you think, but if you are a matched bettor who places bets on tennis, for example, it is an offer which you could take advantage off.

The other 0% commission offer is available to be used on all sports, but it is applicable on Saturdays only.

For those matched bettors who have been around the block a few times, you will remember when Smarkets used to have an offer in place which was similar to this one so if you bet on the more popular sports such as football and horse racing, this is a Betdaq offer for you to get involved with but remember, it is Saturdays only.
Let's Go through the Betdaq Registration Process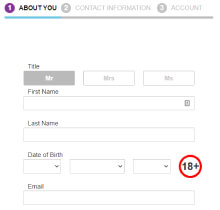 To start the Betdaq open account process, you will need to click on the 'join now' button, which can be found in the top right-hand corner of the website. You will then be taken through the sign-up process where you just have to enter your name, address, date of birth and your email address.
Betdaq will carry out an automated check on your identity, but from our experience, they usually email you a KYC request (Know Your Customer).
If you are an established matched bettor, you will probably have ID documents stored in a file on your PC so you can instantly send them off when requested, but if you are not familiar with a KYC request, it is simply a requirement to send the bookie or betting exchange proof of who you say you are and that you are over eighteen years of age.
This proof is in the form of a copy of your passport/driving licence, a utility bill which is less than three months old and if you have made a deposit into your account by bank card, a scan of the front and back of the card is required.
A photograph of these documents using the camera on your mobile phone is usually adequate but remember to blank out the three-digit signature code and the middle digits of your bank card number if you are sending a picture of your bank card.
You will now have a username and password so click on the purple login button which can also be found in the top right-hand corner of the website, enter your username and password and you are ready to make a deposit into your account and claim that Betdaq welcome bonus.
Claiming That Betdaq New Customer Offer
We will now talk about depositing some funds into your account and claiming the Betdaq free bets offer.
Once you have logged into your new Betdaq account, click on the deposit button which can be found in the 'my account' section of the website.

You will be prompted to add a payment method so as we are going for the free £10 bet, remember that the Betdaq free bet terms stated that only deposits with a bank card would qualify for the bonus.

There are options to deposit with web wallets such as Skrill and PayPal along with various other methods, but for now, we will make that first deposit with a bank card.
For the bet£10, get £10 offer, you will see from the promotions page that there is a code which needs to be entered in the promotions section of the website, but more often than not, you will see that this has been prefilled for you.
Enter the amount which you would like to deposit, in this case £10, click on the button directly below the amount you have just entered, and the deposit will be made into your account, ready to use instantly.
Placing That First Bet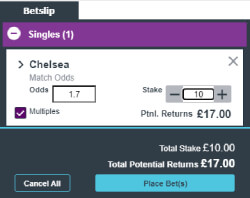 As we are going for the £10 free bet, we just need to find a selection with minimum odds of 2.0.
The list of sporting events can be found down the left-hand side of the website, so it is just a matter of choosing your sport and from there, the selection which you would like to place the bet on.
When you have decided on the bet you would like to make, click on the odds, and a betting slip will pop up on the right-hand side of the website containing your selection.
In the stake box, directly underneath the selection, enter your stake of £10 and then click on the 'bet now' button.
Your bet will now have been placed and when it has been settled the £10 free bet will be automatically credited to your account.
When you choose another selection, you will see that there is an option within the betting slip to use your free bet token but don't forget, this is a stake not returned bet so the £10 free bet stake will not be included in any returns if you bet goes on to win.
Live Betting at Betdaq
Live betting is obviously available on the exchange, and there are also a range of live betting options available on the sportsbook.
Click on the sportsbook tab at the top of the left-hand corner of the website and from there, click on the In-Play button and you will be taken to the live betting events which are taking place.
There is also a menu of the live betting events which are taking place later in the day and later in the week.
It should be noted that any of the bonuses can be claimed on live play events as long as the rest of the free bet rules are met.
Playing on the Move with Betdaq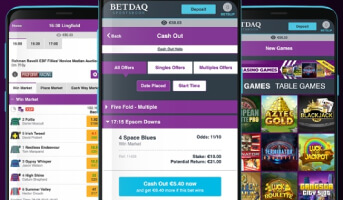 Betdaq have a high-quality app which can be downloaded in both Android and iOS formats and are available from the Google Play Store and the Apple store, respectively.
There is also a mobile version of the website which will load automatically on a mobile device when the Betdaq URL is entered into your mobile browser. It doesn't matter if you are using the app or the mobile version of the website, the same username and password are used for logging in, and the same cashier is used to make a deposit and withdraw from your account.
The design of the app and the mobile website is exactly the same as the desktop version of the website.
Is the Customer Support Friendly?
There is nothing worse than contacting the customer support of a bookie only to feel that you are wasting their time or if they obviously have no interest in what they are doing.
You can rest assured with Betdaq though because the support staff are friendly and very helpful.
They can be contacted by telephone, live chat and email with live chat being the preferred option but there is a slight criticism.
In this day and age, the live chat with many matched betting sites is available 24/7, but with Betdaq, this service is only available between 09.00 and 20.00 on a Monday to Saturday and 9.30 to 20.00 on a Sunday.
Is Betdaq Fully Licenced?
Yes, Betdaq is fully licenced by the UK Gambling Commission (UKGC), and as this licence covers the safety of your personal details and deposited funds, along with a whole host of other features, you can be assured that this betting exchange/sportsbook is about as above board as it is possible to get.
They also take responsible gambling extremely seriously, which is always a good sign with an online gambling website.
What this basically means is that there are various tools and help in place should you be experiencing problems with your online gambling.
Frequently Asked Questions
Matched bettors who are considering opening a Betdaq account often have a few questions to ask, and so the questions below are the ones that are most often asked.
What Is the Liquidity like for the Betdaq Offers?

Good question.

The liquidity on Betdaq is not as good as Betfair, but the average matched bettor will find that there is enough in there to match out the bets relating to the Betdaq bonuses.
Is It Worth Having a Betdaq Account If You Already Have One with Betfair and Smarkets?

It is definitely worth having a Betdaq account no matter what other betting exchange accounts you may have.

One reason would be to claim the Betdaq new customer offer and another reason could be tom take advantage of the 0% commission offer on Saturdays.
Is Betdaq Associated with Another Bookie?

Yes, it is.

The betting giant Ladbrokes purchased Betdaq back in 2013, and few people would argue with the fact that it has gone from strength to strength since then.

Ladbrokes wanted a larger stake in the betting exchange market, and in hindsight, it looks like they made a very wise decision in the acquisition of Betdaq.